MARK YOUR CALENDERS
Saturday April 15th and Sunday April 16th at 10:30 PM EST
Fresh off the Opening of a Solo Museum Exhibition in Germany at the distinguished Goch Museum as well as live Artist Appearances in Austin, Texas, Palm Springs California, and Houston: Superstar Celebrity Artist KeF! will be appearing LIVE In Studio on the Fine Art Auction!
MARK YOUR CALENDARS!  You Don't want to miss this extraordinary weekend! Only on The Fine Art Auction Channel.
LIVE Q & A WITH KeF! Submit your question for the Artist to: info@thefineartauction.com
Send in your questions for KeF! to be read and answered LIVE ON AIR!
These two AMAZING shows will feature never-before-seen NEW Hand Painted Vases, New Earthenware Chargers and the most spectacular new artworks from The Artist taking the Art World By Storm and who has been labelled by ARTNET as "The Most Exciting Contemporary Artist to come onto the Art Scene in a long while "
Watch the opening of KeF! s Solo Exhibition in Germany
I WATCH HELPLESSLY AS FLOWERS WITHER

( Powerless I watch the flowers wither )
Watch this! KeF!!  GOCH MUSEUM OPENING OF HIS SOLO EXHIBITION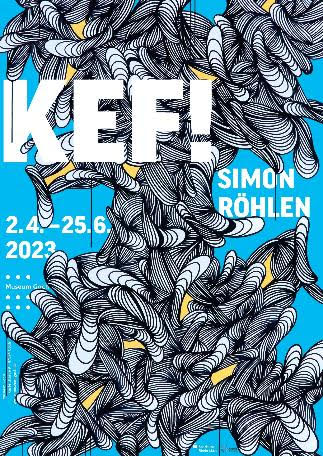 I WATCH HELPLESSLY AS FLOWERS WITHER
( Powerless I watch the flowers wither )
For the first time, a German art museum is devoting a solo exhibition to the painter, draftsman and urban artist Simon Röhlen, who was born in 1989.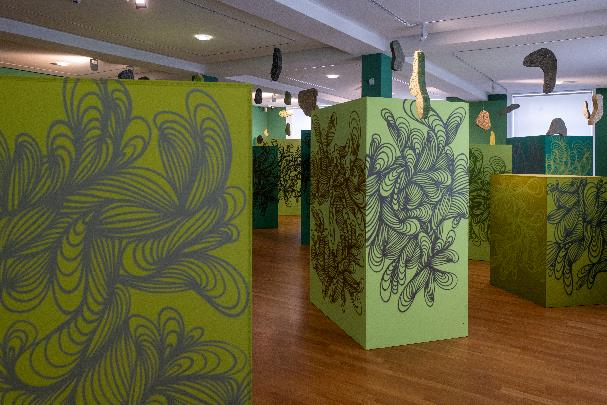 The artist, who works internationally with his large-format spray paintings, has created a room installation with sprayed drawings for this exhibition, so that visitors can immerse themselves in a unique spatial picture experience. He will become one with the grandiose and rousing lines and part of this great verve.
We also show large-format canvases by the artist in the museum.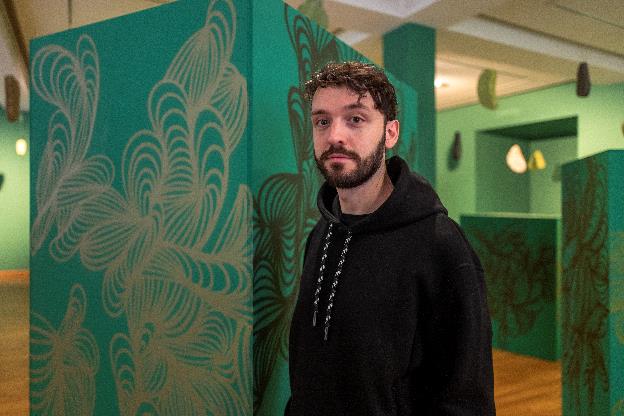 In Simon Röhlen's, aka KeF! , partly large format (wall) paintings, the line appears again and again as an abstract, formative element. KEF! started graffiti at the age of 14; in 2013 he moved to London where he perfected his style and developed a more complex network of interlocking lines. Inspired by nature, Buddhism and numerous journeys, his work reflects an impressive harmony that unfolds a hypnotic effect in his murals. He uses street art elements such as spray paint and markers (formerly stickers) and enjoys working in the streets. His artistic work has taken him to street art festivals around the world and brought him numerous commissions. However, his work goes beyond street art.
As his most recent work, Simon Röhlen designed a large goal in Qatar at the same time as the soccer World Cup. In Pforzheim, a larger overview exhibition was shown in the Kunstverein in 2022.
KeF! was chosen to represent Germany and the world as a part of the official artistic efforts of @visitqatar and the FIFA World Cup Qatar 2022.  This young & critically acclaimed Artist & Sculptor is thrilled to be a part of an artistic initiative bringing people of all countries together.
The well-known Artist was one of ten Artists worldwide invited to design the artwork to be placed for all to see at West Bay Beach.  These ten artistic superstars are quite clearly well-known and highly collected Artists and are at the top of their artistic game: all ten represent countries that have won the coveted title.
The goalpost he designed was inspired by the desert rose, found in the sands of Qatar.  There is much symbolism here: with the circular lines representing the incredible ability of football and art to bring together people of different cultures and nations.