Atlanta, Georgia:  December 15th 2022: The Fine Art Auction is honored to announce that its' Artist KEF! was chosen to represent Germany and the world as a part of the official artistic efforts of @visitqatar and the FIFA World Cup Qatar 2022.
The well-known Artist was one of ten Artists worldwide invited to design the artwork to be placed for all to see at West Bay Beach.  These ten artistic superstars are quite clearly well-known and highly-collected Artists and are at the top of their artistic game: all ten represent countries that have won the coveted title.
KEF! INSTALLATION     FIFA WORLD CUP QATAR 2022
The goalpost he designed was inspired by the desert rose, found in the sands of Qatar.  There is much symbolism here: with the circular lines representing the incredible ability of football and art to bring together people of different cultures and nations.
The Installation will be up through December 20th, 2022.
ABOUT KEF!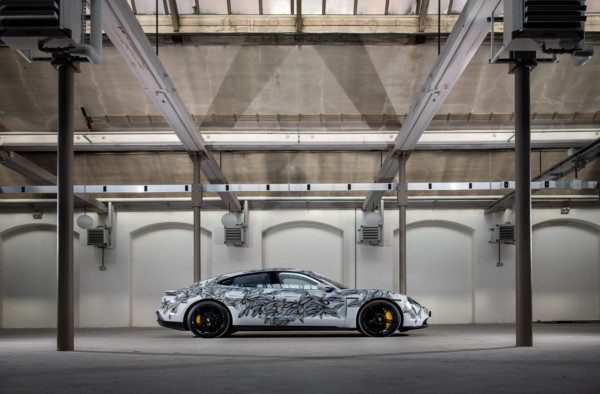 Simon Röhlen, also known as KEF!, grew up in Aachen, a small German town right on the Dutch border. Even as a child, he was always looking for something creative, a way in which he could express himself.
Art gave KEF! the opportunity to escape to another world filled with peace and harmony. Here he found peace and true inspiration for his life.
At the age of 14, he went public with his work for the first time. He reconfigured his name graphically and developed an entirely new art form, which he offers for all people worldwide today.
His path began with an enthusiasm for graffiti, particularly street art. For him, creating and viewing graffiti means freedom.
"There are no rules there. Nothing is dictated. Everyone has access to street art, regardless of their social background."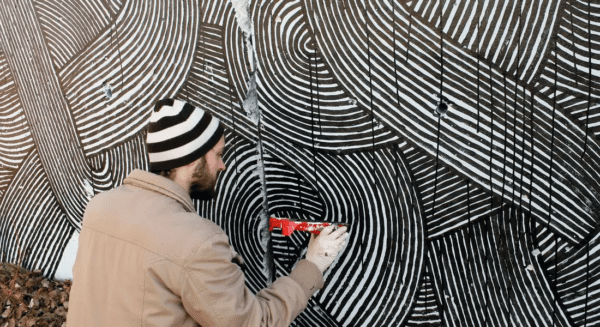 Each of his artworks affects and has an influence on people. Street art influenced KEF! and inspired him to produce it himself. In 2006 he discovered the book "The Art of Rebellion: The World of Street Art". The chance to express himself through graphic art fascinated him.
In 2011 he was contacted by the former German pro soccer player Christian Timm, who invited him to his pop-up gallery "Neeshkat" in which he exhibited KEF! along with other street artists. An important milestone, this motivated him to invest more time in his art and to immerse himself the London art scene.
After having completed his training in the technical field, KEF! knew that from now on he would dedicate himself exclusively to his art. He left his German homeland and moved to London. In London, KEF! painted many walls. His works are now regularly exhibited in European galleries and have found their way into private art collections. At the same time his works are becoming better known and KEF! has received prime commissions beyond Europe.
Since 2005, KEF! Has been living in Berlin. For him, the city radiates the freedom that he needs. The fact that many people in Berlin are creatively active inspires him. KEF! feels an undefinable attachment to Berlin. Nevertheless, he could never tie himself down to one place.
"I'm just a guest on this planet."
KEF! travels regularly, to live his art. Traveling fills him with the sense of being everywhere and nowhere.
ABOUT THE FINE ART AUCTION
The Fine Art Auction, which currently broadcasts on AVC, and served as the leader in fine art sales is a global multi-platform entertainment channel. The channel has achieved global reach, acquiring millions of viewers through its current broadcast television partners (AVC), as well as its Fine Art Auction livestream and newly-developed digital platforms across YouTube, Instagram, Facebook, Pinterest and all proprietary major media platforms.
There is no other channel that exists in the world bringing the variety of art-immersed content that The Fine Art Auction offers. The Fine Art Auction has revolutionized how the world engages with Art, premiering an innovative presence for the new era of Entertainment programming. Bringing viewers, the most significant contemporary and urban artists of our time, as well as the most-important 20th and 21st Century artists and the venerable masters, The Fine Art Auction is truly unparalleled. Viewers can tune in to an array of artistic entertainment content – from live auctions to in-studio artists' appearances and video features narrated by art experts and curators throughout the world. From the Contemporary Icons of Street Art to the revered 20th Century Masters: we deliver art experience.  www.thefineartauction.com
KEF!   ART AS LIFE AND LIFE AS ART